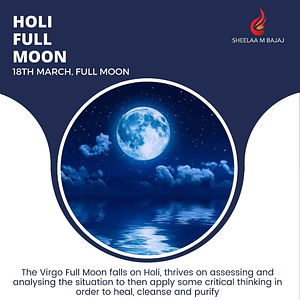 The final Full Moon of the astrological year occurs on the Occasion of Holi , which is ideal as right around this time we want to employ a bit of cool, level-headed analysis of the last 12 months to see where we've been blocking ourselves and allowing those pesky limiting beliefs to hinder our progress when it comes to creating the life we desire to lead. Enter the Holi Full Moon, which thrives on assessing + analysing the situation to then apply some critical thinking in order to heal, cleanse + purify.
On the day of the full moon, the planet of communication, Mercury, will be nearing a conjunction to Jupiter, the planet of luck, abundance, and expansion, which can be one of the most fortunate aspects for sharing what's in your heart.
Because of the conjunction you can expect more conversations around emotions, creative projects, spiritual pursuits, and healing.
We Recommend that you make the most of this Full Moon to live a fuller and brighter life . Healing yourself is critical on such days.
Join in for the Special 5th Dimensional Healing channeled by Sheelaa M Bajaj, Asia's leading numerologist, transformation coach and the Ceremonial Priestess of India's first Yoruba Temple, the Temple Of Miracles.
For Registration click on : https://bit.ly/3zQL2lS
Join the telegram group to know more: https://t.me/joinchat/VG3RpKTglMF3nJgV
Note: You need Telegram Application for the above link.